T h e G e r m a n
E c o n o m y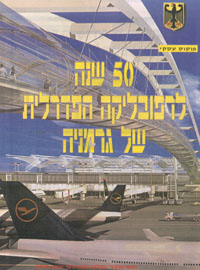 Dresdner Bank AG



The State of Saxony Economic Development Corporation



Siemens AG



DaimlerChrysler AG



Lufthansa Israel



Hochtief AG



The Embassy of the Federal Republic of Germany in Tel Aviv

Interview with Chancellor Gerhard Schroeder: Germany will contribute for the success of the peace process.


Interview with Bernhard Walter, Chairman and CEO, Dresdner Bank: Dresdner Bank, the Leading Bank in Europe.


Interview with Dr Werner Mueller, Federal Minister of Economy: Cooperation between Israel and Germany in research and development.


Interview with Dr Harald Rutting, General Manager, Saxony Economic & Development Corp: Welcome to Saxony.


Interview with Dr Heinrich von Pierer, President and CEO of Siemens: 150 Years of Technological Inventiveness.


Interview with Hermann J. Koelle, Manager Siemens Israel Ltd: If the peace process continues Israel will be a bridge for Siemens activities in the Middle East.


Interview with Dr. Klaus Mangold, Member of the DaimlerChrysler AG Board and Chairman of debis AG management Board: Berlin a unique center for service Companies.


Interview with Godel Rosenberg, DaimlerChrysler Representative in Israel: DaimlerChraisler is a partner to Israel for peace and prosperity in the Middle East.


Interview with Theodor Wallau the German Ambassador in Tel Aviv: Excellent circumstances for the development of the Economic Relations between Israel and Germany.


Interview with Stefan Semsch Lufthansa Representative in Israel: Lufthansa is ready for 2000.


Interview with Avi Primor, Ambassador of Israel in Bonn: Germany, A staunch friend of Israel in the world after U S A.


A profile of Hochtief, the leading construction Company in Germany.


Interview with Dr. Uri Ullmann Economic Counsellor at the Israeli Embassy in Bonn: Germany the most important trade partner of Israel in Europe.