American Hi - Tech
meets Israeli Hi
Tech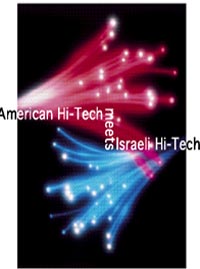 IBM Israel



Motorola Israel



New York State Department of Economic Development, Israeli Office



North Carolina Israel Partnership



State of Ohio, Eastern Mediterranean Regional Office in Tel Aviv



AIG



Garage. com



ASOA



Microsoft Israel



HP Invent Israel




US Commercial Service
US Embassy, Tel-Aviv

Interview with Ambassador Martin Indyk: US High Tech meets Israeli High Tech.


Meir Nissensohn, General Manager, IBM Israel: IBM Brings Israeli Firms to the e - business arena


Ann Bacher, Commercial Counselor, U.S. Embassy: Electronic commerce, the growth engine of the 21 st century.


Hanan Achsaf, Corp. VP Motorola Inc USA, President & Chairman of the Board, Motorola Israel Ltd: We have to make sure youngsters will not be deprived of High - Tech.


New York State Department of Economic Development: Silicon Alley Booms, Come and See


Ohio: America`s Number One location for foreign companies to set up or expand.


North Carolina: The Science and Technology Hub.


Ed Snyder, CEO AIG, Israel: Important News From AIG About Directors & Officers Liability Insurance.


Dr Cheryl L. Shavers, Under Secretary for Technology: Venture Capital Industry is Exploding


Carmel Vernia, Chief Scientist of the Ministry of Industry & Trade: High - Tech, central pillar around which the Israeli economy has been re-structured.


Bird Foundation: Collaboration - Strategic Partnership - Risk Sharing R & D Promotion for the Mutual Benefit of Israel and the U.S


USISTC: Strategic cooperation at the Highest level


Garage.com: Izhar Shay: Business Layers and Garage.com: a win-win partnership. Guy Kawasaki: Israel the first country we entered after US. Gideon Marks: Garage.com, looking for technology companies.


ASOA : A congratulation of the USA on the occasion of its 224th Independence Day Celebration.


Microsoft: The Unknown Side of Microsoft


Yaacov Yisraeli, President, Amcham Israel: Our primary role is to build and maintain economic bridges


Carly Fiorina, President & CEO, HP: The Renaissance of E - Services