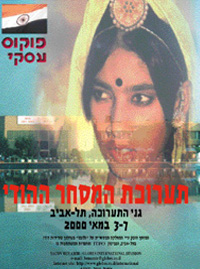 ITPO, Indian Trade Promotion Organization



The State Bank of India



Aarohi Israel Diamonds Ltd



The Export Import Bank of India



The Indian Government Tourist Office in Tel Aviv



Magic Software Enterprises India Pvt. Ltd



Contech Software Limited



The Export Promotion Council for Handicrafts



The Discount Bank of Israel



The Tea Board of India



The Handloom Export Promotion Council



The Electronic and Computer Software Export Promotion Council Contech Software Ltd

Dr Raman Singh, Minister of State for Commerce & Industry Government of India: India is determined to be incorporated in the World Economy.


Omar Abdullah, Minister of State for Commerce & Industry Government of India: The Peace will be a positive dividend in the development of the trade relations with Israel.


Yogesh Chandra, Chairman & Managing Director, Indian Trade Promotion Organization: The Indian industry is introducing products of high quality


Rajan Mathai, Ambassador of India to Israel: India, a good and reliable supplier.


G.G. Vaidya, Chairman, State Bank of India: State Bank of India, the Biggest Commercial Bank in India.


Rupen Bansali, General Manager, Aarohi Diamonds Ltd Israel: For polishing diamonds the future belongs to India.


Y.B. Desai, Managing Director, Export Import Bank of India: Exim Bank will promote cooperation with Companies in Israel.


A two pages profile of Indian Tourist Destinations.


A profile of Contech Software Limited


A profile of Magic Software Enterprises India Pvt.Ltd


An ITPO Program of Events in India during 2000 - 2001


A profile of Export Promotion Council for Handicrafts, New Delhi, India


Joseph Marx, Senior Manager, Israel Discount Bank: India offers huge Commercial potential for Israeli Companies.


S.S. Ahuja, Chairman, Tea Board of India: The Indian Tea is world famous for its health qualities.


A profile of The Handloom Export Promotion Council


A profile of The Electronic and Computer Software Export Promotion Council


An introduction of Mrs Ritu Kumar, a leading Indian Fashion Designer.


Harsh V. Shringla, Counsellor for Economic Affairs, Embassy of India: Export potential for Indian Companies