A 16 pages Full Color
Profile" Made in Italy "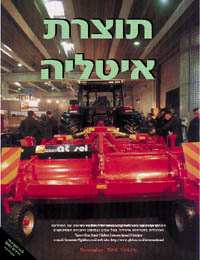 The Embassy of Italy in Tel Aviv

Snam Italy



Irst Italy



Alitalia Israel



Cerved S.p.A.Italy



Intesa Bank Italy



Federchimica Italy



Venezia - Giulia Region



Fiat Alfa Lancia Israel



Illy Caffe Elite Israel



Fiat / Hitachi Israel



Sangemini Israel



Med1 Israel



Fiera di Milano Israel

Mr Gian Paolo Cavarai, Ambassador of Italy to Israel: Italy, the third big exporter to Israel.


An Article: The backbone of the Italian economic success: Local chains of small and medium size enterprises.


An Article: To do business in Italy with the Chemical Industry of Italy.


An Article: Snam, The Italian world leader of Gas Technology.


An Article: The wonderful world of Alfa Romeo.


An Article: ITCirst, a research of intelligence in the Italian Alps.


Calendar of the 2001 exhibitions in Fiera di Milano.


A Two Pages Calendar of the internationally recognized Italian Trade Fairs and Exhibitions in 2001.


Interview with Eng. Enrico Salza, Managing Director of Cerved S.p.A: Cerved has more than 8,000 clients, among them 90% of the Italian Banks, and 40% of the Italian leading Companies.


A Profile of Intesa, Banca Commerciale Italiana.


A Profile of Alitalia, the National carrier of Italy.


An Article of the Israel-Italy Chamber of Commerce.


A Profile of Sangemini mineral water: Calcium from Nature.


A Tourist Profile of Regione Autonoma Friuli - Venezia Giulia.


A Profile Advertising of Illy: A real pleasure Italian Caffe.


A Profile of MED1: The Company that leads Israel to the information revolution of the 21 Century.